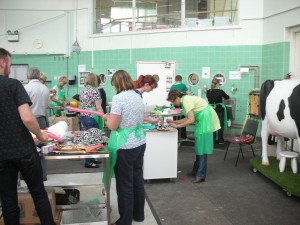 Introduction:
This abstract provided the basis for a short paper presentation at the Creating Space symposium before the Canadian Conference on Medical Education in Vancouver in April 2015. See:
http://www.proreg.ca/events/ccme/abstracts_2015/schedule_pc_abs.php?id=107270
Title:
Using the humanities and arts to blend areas of competence through simulation workshops in veterinary health professional education; implications for human health professional education.
Authors:
Robbé, Iain J., Visiting Professor (part time), Memorial University, Newfoundland.
Gardiner, Andrew, Senior Veterinary Clinical Lecturer, The Royal (Dick) School of Veterinary Studies, University of Edinburgh, UK.
Roe, Andrea, Lecturer in Sculpture, Edinburgh College of Art, University of Edinburgh, UK.
Specific and learner centred objective:
To discuss the implications for health professional education of using the humanities and arts in simulation workshops in veterinary education.
Background
Veterinary and medical curricula are increasingly complex in their demands on the learners in the cognitive, psychomotor and affective domains (Bloom, 1956). Competence in the affective domain is frequently undervalued by learners and educators and referred to pejoratively as 'non-technical competence' (Nie, 2011).
Intervention
Drawing on our professional backgrounds in human and veterinary medicine, humanities, and fine arts we have facilitated three workshops at annual veterinary education symposia (2012 – 2014); 20 learners and educators on each occasion. The aim was to blend cognition with psychomotor competence, through handling materials or drawing, and with affective competence, through narratives and reflexive thinking, in order to increase patient/client-centredness, empathy, and communication skills.
Our conceptual frameworks included constructivism (Vygotsky, 1978), narrative discussions (Kumagai, 2008), and reflexive sociology (Wacquant, 1989).
Observations
We recognised the need for a safe learning environment so that participants could use their creativity, individually or in small groups, for the simulation which was to produce an object e.g. model of an abscess, foreign body, traumatic injury, or draw a picture. Feedback from each participant involved describing their object/picture to explain how it would be used to communicate with the animal's owner thereby demonstrating the blending of the competence domains.
Discussion
Are the conceptual frameworks used in these workshops for veterinary education applicable to health professional education? Demonstrating quantifiable outcomes may not be appropriate. Instead, should we look for participants' feedback about transformative learning (Frenk, 2010), professionalism especially empathy and communication skills (Morris, 2012), and transfer to daily practice (Eertwegh, 2013)?
Reflections on the presentation and the subsequent discussion:
1) wire frame: it was economical and easy to use for the rendition
2) literature: we need to look at the veterinary (medical) education literature when using the of arts, humanities, and the social sciences in health professionals' education
3) scholarship: we were congratulated on the scholarship in the arts, humanities, and the social sciences that we demonstrated in the workshops particularly as regards the social and cultural contexts of learning
4) conceptual frameworks: it was recognised that the conceptual frameworks we used for veterinary education are applicable to health professionals' education.