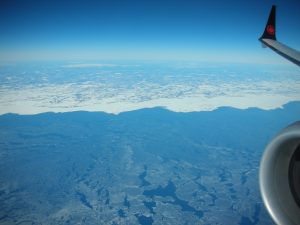 For the past two years I have been collaborating with two colleagues in a British university on a project investigating the meanings of professional identity in multiprofessional teams from health and social care organisations. I am keeping the names of my colleagues anonymous because the project is not complete and my comments are a personal interim update until the final analyses are carried out and dissemination events are held in the fall/winter.
Professional identity can be broadly defined as the knowledge, attitudes and behaviours of a specific profession and it is important to note that identity formation occurs rapidly in the health and social care professions during undergraduate education (Mossop et alia, 2013).
My colleagues had been researching professional identity for some years and I was invited to join them because of my activities as a Clinical Medical Educationist particularly the teaching and research in professionalism, ethics, and communications.
The excitement of the project for me was to design and implement six workshops with multiprofessional teams exploring questions about professional identity including its benefits, challenges, and issues of trust and power. The conceptual framework for the workshops was based on andragogy and humanism.
I was particularly pleased to be able to use the nominal group technique (Fink et alia, 1984) in some of the workshops because it had been so useful in my dissertation for Master in Medical Education degree.
Using a systems methodology (Patel, 1995), my interpretation of some of the key qualitative results about professional identity in multiprofessional teams identified four themes –
1) Shared principles and values towards shared goals: better care and more open leadership but differences in views on identity need to be actively managed.
2) Information: improves knowledge of one's own professional identity and of other identities and in turn builds trust and co-operation but it can be used as a form of power.
3) Communication: helps identity to be understood thereby building trust in relationships, open-mindedness, and mutual respect but it takes time to build relationships, at least one year.
4) Decision-making: can move identity beyond professional boundaries towards quicker and better problem solving but it can cause role ambiguity, and discomfort, even conflict.
Limitations: I am cautious about the results because they are based only on my analyses, there were six workshops, and other methodologies for the analyses could be used.
Conclusion: there is nothing earth-shattering. However the preliminary conclusion I have drawn is that there is a myth in undergraduate education along the lines that the formal curriculum, informal curriculum, and hidden curriculum build professional identity which emphasises the exceptionalism of the profession, the firmness of the rules (knowledge, attitudes and behaviours), and the fixed nature of identity i.e. it does not change over time.
In reality, after the undergraduate period, a reflective professional discovers from practice, especially practice in multiprofessional teams, and from postgraduate education that some parts of professional identity are shared between professions, have to be fluid rather than solid, and to be effective, they need to be flexible.
Next stage: my colleagues and I will be carrying out the final qualitative and quantitative analyses during the next few months and dissemination events will be held in the fall/winter. I have drafted the workshop for the main dissemination event and smaller workshops will be offered to each of the six multiprofessional teams
Fink, A., Kosecoff, J., Chassin, M., & Brook, R.H. (1984). Consensus methods: characteristics and guidelines for use. American Journal Public Health, 74, 979-983.
Mossop, L., Dennick, R., Hammond, R., & Robbé, I.J. (2013) Analysing the hidden curriculum: use of a cultural web. Medical Education, 47, 134-143.
Patel, N.V. (1995). Applications of soft systems methodology to the real world process of teaching and learning. International Journal Educational Management, 9, 13-23.